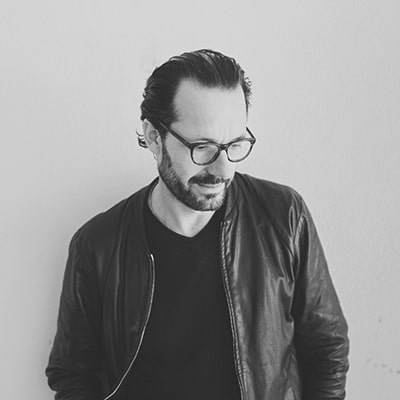 1965 born in Munich
1985 - 1987 Apprenticeship as cabinet maker at John Makepeace School, UK
1988 - 1990 MA in Industrial Design, Royal College of Art, London
1990 - 1991 Work for Jasper Morrison, London
Since 1991 Konstantin Grcic Industrial Design, Munich

Konstantin Grcic Industrial Design (KGID) was founded in 1991. The office specializes in various fields of design ranging from furniture and industrial products to exhibition design and architecture related work. KGID is working for some of the leading names of the design industry. Many of their products have received international design awards and form part of the permanent collections of the world´s most prestigious museums. Konstantin Grcic defines function in human terms, combining formal strictness with considerable mental acuity and humour. Each of his products is characterized by a careful research into the history of design and architecture and his passion for technology and materials. Known for pared-down pieces, Grcic is often called a minimalist but the designer himself prefers to speak of simplicity.

Publications
2014 – Konstantin Grcic: Panorama, Vitra Design Museum, (ISBN 978-3931936068)
2011 – Konstantin Grcic / I Protagonisti del Design, Hachette, Milano
2011 - Konstantin Grcic / I Maestri Del Design, Il Sole 24 Ore, Milano (ISBN 977 1973639375)
2011 - Konstantin Grcic, Champions / Couleurs Contemporaines, Les Cahiers, Bernard Chauveau Éditeur Paris (ISBN 978 2915837872)
2010 – Konstantin Grcic / Design etc., Interview with Pierre Doze, Archibooks, edited by Marion Vignal (ISBN 978-2-35733-118-1)
2009 – Konstantin Grcic, A+D Series, The Art Institute of Chicago, Yale University Press, edited by Zoe Zyan (ISBN 978-0-300-15104-6)
2008 - The making of MYTO, a cantilever chair, edited by Meiré&Meiré
2007 - MIURA stool NYC 2006, Plank (ISBN 978-88-902728-0-6)
2005 - KGID Book, Phaidon Press, London (ISBN 0-7148-4431-4)
2003 - Konstantin Grcic for ClassiCon, Salone del Mobile, Milano
2000 - Goethe/Grcic Alltagsobjekte/Quotidian Object, Charta, Milano (ISBN-13:978-8881583102)

Monographic Exhibitions
2014 – Konstantin Grcic – Panorama; Vitra Design Museum, Weil a. Rhein, Germany
2010 – Designer of the Year Exhibition; Design Miami, USA
2009 – Konstantin Grcic: Decisive Design; The Art Institute of Chicago, USA
2008 - Small Talk; Musée des Arts Décoratifs, Paris, France
2007 - This Side Up; Museum fuır Gestaltung Zuırich, Switzerland
2006 - ON/OFF; Haus der Kunst Muınchen, Germany
2006 – Design Parade, Museum Bojmans van Beuningen, Rotterdam, The Netherlands
1995 – Konstantin Grcic Twinset, Binnen Gallery, Amsterdam, The Netherlands Curatorial Projects /

Exhibitions
2010 – Black2; Istituto Svizzero, Rome, Italy
2010 – Comfort; Biennale Internationale Design Saint-Etienne, France
2009 – Design Real; Serpentine Gallery, London, UK
2006 - Kimura Ihei in Paris; 8F Forum, Maison Hermes, Paris, France
2006 – Orient Express, installation; Stylepark in Residence, Cologne, Germany
2000 – Goethe/Grcic, exhibition of Goethe´s quotodian objects; Casa di Goethe, Rome, Italy

Commissioned Projects (selection)
2013 – Appt.N°50, exhibition, private commission, Cité Radieuse Le Courbusier, Marseille, France
2012 – Reduce-Reuse-Recycle, exhibition design of the German Pavilion, Architectural Biennale, Venice, Italy
2010 – Netscape, public installation; Design Miami, USA
2009 – Autobahn, window display; Maison Hermès, Tokyo, Japan
2006 – Space/-1, installation; MUDAM – Le Musée d'Art Moderne Grand-Duc Jean, Luxembourg
2005 - You-Are-Here; Ente Parco Delle Madonie, Sicily, Italy
2004 – Design en Stock, scenography for FNAC collection; Palais de la Porte Dorée, Paris, France
2002 – Ideal House, installation; International Furniture Fair Cologne, Germany

Museum Collections (selection)
Art Institute, Chicago
Boijmans Van Beuningen Museum, Rotterdam
Brooklyn Museum of Art, New York
Centre Georges Pompidou, Paris
Design Museum, London
Deutsches Museum, Munich
Die Neue Sammlung, Munich
Indianapolis Museum of Art, USA
Musée Les Arts Décoratifs, Paris
Museum of Modern Art, New York
Stedelijk Museum, Amsterdam
Tel Aviv Museum of Art, Tel Aviv
Victoria & Albert Museum, London
Vitra Design Museum, Weil am Rhein

Awards - Product (selection)
2014 - German Design Award GOLD 2014 for PRO (Flötotto)
2012 - Red Dot Award, winner, PRO Chair Family (Flötotto), Germany
2012 – Best of Best, Interior Innovation Award, Germany for PRO (Flötotto)
2011 - XIX Compasso d´Oro, Italy for MYTO (Plank)
2010 – Red Dot Award, best of the best for TABLE B (BD Barcelona)
2009 - Brit Insurance Designs of the Year (Furniture) for MYTO (Plank)
2007 - Design Prize of the Federal Republic of Germany, Silver for MIURA (Plank)
2006 – IF Design Award, Gold for MIURA (Plank)
2006 – Red Dot Award, best of the best for MIURA (Plank)
2006 - Design Prize of the Federal Republic of Germany, Silver for chair_ONE (Magis)
2005 - Blueprint Best Product Award, 100% Design, UK for MIURA (Plank)
2001 - XIX Compasso d´Oro, Italy for MAYDAY (Flos) Awards - Work (selection)
2010 – Designer of the Year Award, Design Miami/, USA
2010 – Fellow at Villa Massimo, Deutsche Akademie, Rome, Italy
2010 – Royal Designer for Industry, Royal Society fot the Arts, UK
2010 - Furniture Designer of the year, Wallpaper* Design Award, 2010
2007 - Designer Of The Year, awarded by Architektur&Wohnen, Germany
2007 - Designer de l'Année, Maison et Objet, France
2007 - Guest Of Honour, Stockholm Furniture Fair, Sweden
2004 - Nombre d'Or, Salon du Meuble, France
2000 - Guest Of Honour, Biennale Interieur in Kortrijk, Belgium

Clients
Industrial Design
Agape, Artek, Authentics, Azucena, BASF, BD Ediciones, Böwer, Cappellini, Cassina, Chi Ha Paura...?, ClassiCon, Colombo Design, Driade, Emeco, Established & Sons, Flos, Flötotto, Iittala, Krups, Lamy, Laufen, Magis, Maharam, Marsotto Edizioni, Mattiazzi, Moormann, Moroso, Montina International, Muji, Nespresso, Parador, Plank, Pirelli, Porzellan-Manufaktur, Nymphenburg, Serafino Zani, SCP, Thomas/Rosenthal, Vitra, Wally, Wireworks Commissions Absolut (V&S Spirits), Biegel, Walther König, Brioni, Camper, Centre National des Arts Plastiques, Design Miami, Dragonfly Taiwan, Fonds National d'Art Contemporain, Galerie Kreo, Goethe Nationalmuseum, Haus der Kunst München, Herzog & de Meuron Architects, imm cologne, Istituto Svizzero, Messe Frankfurt, Mudam (Musée d'Art Moderne, Luxembourg), Parco delle Madonie, Residenztheater München, Wallpaper, Whirlpool Europe
Products designed by Konstantin Grcic