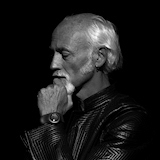 Ross Lovegrove (World renowned Industrial Designer)
MDES RCA FCSD FUWIC RDI

Ross Lovegrove is a designer and visionary who's work is considered to be at the very apex of stimulating a profound change in the physicality of our three dimensional world. Inspired by the logic and beauty of nature his designs possess a trinity between technology, materials science and intelligent organic form, creating what many industrial leaders see as the new aesthetic expression for the 21st Century. There is always embedded a deeply human and resourceful approach in his designs, which project an optimism, and innovative vitality in everything he touches from cameras to cars to trains, aviation and architecture.
Born in 1958 in Cardiff, Wales. Graduated from Manchester Polytechnic with 1st Class BA Hons Industrial Design in 1980. Master of Design of Royal College of Art, London in 1983. In the early 80's worked as a designer for Frog Design in West Germany on projects such as Walkmans for Sony, Computers for Apple Computers, later moved to Paris as a consultant to Knoll International, becoming author of the highly successful Alessandri Office System. Invited to join the Atelier de Nimes along with Jean Nouvel and Phillipe Stark, consulting to amongst others Cacharel, Louis Vuitton, Hermes and Dupont. Returning to London in 1986 he has completed projects for amongst others Airbus Industries, Kartell, Ceccotti, Cappellini, Idee, Moroso, Luceplan, Driade, Peugeot, Apple Computers, Issey Miyake, Vitra, Motorola, Biomega, LVMH, Yamagiwa Corporation, Tag Heuer, Hackman, Alias, Herman Miller, Renault, Artemide, Japan Airlines and Toyo Ito Architects in Japan. Winner of numerous international awards his work has been extensively published and is held in permanent collections of various design museums around the world, including the Museum of Modern Art in New York (MOMA), the Guggenheim Museum in New York , Axis Centre in Japan, Pompidou Centre in Paris, the Design Museum in London, when in 1993 he curated the first Permanent Collection, the Vitra Design Museum in Weil Am Rhein, Basel, CH and Die Neue Sammlung - The International Design Museum in Munich.

Awards:
Medaille de la Ville de Paris, 1998
George Nelson award, 1998
iF Industrie Forum Design award, Hannover, 1999
ID magazine Good Design award, 2000
Nominated "Designer of the Year" by the magazine Architektur & Wohnen, Hamburg, 2001
Awarded Royal Designer for Industry by The Royal Society of Arts 2004
D&AD Silver Medalist
JANUS Paris 2004
"G" Mark Federal Design Prize Japan
Final Nomination for the Prince Philip Design Prize 2004
awarded the World Technology Prize by Time Magazine and CNN in November 2005
Awarded the Conde Nast Vogue Traveller Ecology Prize for his SOLAR TREE street lighting for MAK in Vienna, 2007
FX – Product Designer of the Year 2012
Automotive Interior Awards 2013 – Renault Twinz

His work was shown in many exhibitions around the world:
'Ross Lovegrove Objects' in Stockholm,1997
'Ross Lovegrove - Design' at the Danish Museum of Decorative Art in Copenhagen 1998
'Organic Dreams' at IDEE in Tokyo, 1999
'Sensual Organic Design' at Yamagiwa Corporation in Tokyo, 2000
Designer of the year 2001 A&W, Germany "Material Transition" installation at Rheinauen Space, Koln, January 2001
'Expanding the Gap' exhibition at Rendel&Spitz Gallery in Koln with Greg Lynn and Tokuj in Yoshioka in January 2002
DELIGHTED by Corian with Marc Newson and James Irvine Milan Salone 2003
Installation DESIGNOSAURS at Segheria Milan April 2004 from Archeology to Architecture
SUPERLIQUIDITY – installation Le Bain Gallery Tokyo 2005
Endurance LIMITED EDITION art pieces at the Phillips de Pury & Company, Gallery in Chelsea , NYC, March 2007.
SOLAR TREE urban lightins and Swarovski Crystal Aerospace at MAK, Vienna October 2007.
CELLULAR AUTOMATION – ORIGIN OF SPECIES 2; Second Nature exhibition curated by Tokujin Yoshioka, 21_21 Design Sight, Tokyo, November 2008
LIQUID SPACE table and chandelier installation for Swarovski Crystal Palaca, Design Miami 2008.
PRIMORDIAL, limited edition art pieces at the Galerist, Istanbul, Jan-Feb 2009
ENDLESS CARDI BLACK BOX - Milan 2011
LASVIT LIQUIDKRISTAL – Pavillion Installation. 2012
UFO – Lille Fantastic – Lille 3000 2012
FUTURE PRIMITIVISM – Interieur Kortrijk – 2012
VONDOM BIOPHILIA – Milan 2013
RENAULT CONCEPT CAR TWIN'Z – Milan - 2013
Host of CNN "Just Imagine" documentary presenting a visione of the world in 2020.
Editor of The International Design Yearbok 2002.
Author of the book SUPERNATURAL, The work of Ross Lovegrove by Phaidon with essays by Greg Lynn, Tokujin Yoshioka and Cecil Balmond. Most published designer of the last decade in Domus Magazine Milan.
Products designed by Ross Lovegrove