Marsotto edizioni embodies the supreme qualities of one of the world's noblest and most ancient materials. Plus the wisdom of skilled craftsmanship allied with design culture, in the search for a genuinely contemporary idiom. And a steadfast urge to break new technological ground.
White Carrara marble is truly an extraordinary stone. Evoking the great civilisations of the past, it continues to inspire those of the present. Backed by experience gained from over two hundred years in the industry, Marsotto can perfectly interpret the creations of top international designers. Marsotto edizioni has become a collection of products for everyday use also surprising and sometimes ironic which refer to an international culture.
The collection convey a feel of modernity while preserving the luxury gathered from nature and enhanced by human interpretation.
Products
For years Mario and Costanza Marsotto, have dedicated themselves to their historic family business.
(All Products)
Ross Lovegrove – Designer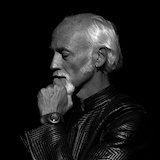 All designers
Ross Lovegrove is a designer and visionary whose work is considered to be at the very apex of stimulating a profound change in the physicality of our three-dimensional world. Inspired by the logic and beauty of nature his designs possess a trinity between technology, materials science and intelligent organic form, creating what many industrial leaders see as the new aesthetic expression for the 21st Century. There is always embedded a deeply human and resourceful approach in his designs, which project an optimism, and innovative vitality in e...