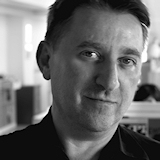 James Irvine was born in London in 1958. Graduated in 1984 at the Royal College of Art, London. The same year he moved to Milan Italy.
From 1984 to 1992 he was a design consultant for Olivetti design studio Milan designing industrial products under the direction of Michele De Lucchi and Ettore Sottsass.
In 1987, for a cultural exchange organised by Olivetti, he worked for one year at the Toshiba Design Centre in Tokyo making design research for industrial products.
He returned to Milan in 1988 and opened his private design studio. Clients included Cappellini, CBI, BRF and SCP. From 1993 to1999 inparallel to his private studio he was a partner of Sottsass Associati Milan and was responsible for the industrial design group.
In 2000 he completed the design of thenew citybus for theHanovertransport system Üstra. 131 buses have been built by Mercedes Benz.
In 2004 he was guest of honour at the fair Interieur inKortrijkand was also elected RDI (Royal Designer for Industry) by the Royal Society of Arts inLondon.
From 2005 to 2007 he was professor for industrial design at the Hochschule für Gestaltung Karlsruhe. In 2007 he was awarded an Honorary Doctorate in Design fromKingstonUniversity.
His design studio in Milan has worked and is working with various internationally renowed companies including Alfi, Amorim, Alias, Artemide, B&B Italia, Canon, Foscarini, LG, Magis, Marsotto edizioni, MDF Italia, Muji, Olivari, Olivetti, Phaidon, Thonet, Whirlpool, Wmf and Zumtobel.
After James' sudden death in 2013, the thirty-year history of his office evolved into a new phase, in which the three key words are precision, irony and generosity. Precision in design, irony in communication, generosity in art directorships. Studio Irvine, now as in the past, is always ready to take up new challenges.
Products designed by James Irvine