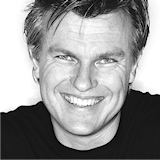 Thomas Sandell is one of the most highly acclaimed architects and designers in Sweden, renowned for furniture design, interiors and several influential architectural projects.
Thomas Sandell was born in 1959 at Jacobstad in Finland. He received his masters of architecture at the Royal Institute of Technology in Stockholm in 1990.
Sandellsandberg was founded in 1995 by Thomas Sandell, Ulf Sandberg and Joakim Uebel. As one of the first practices in Sweden fusing architecture, design and advertising, sandellsandberg challenged the conventional design business model.
The practice currently has 40 employees and is established as one of Sweden's most renowned offices. Sandell has designed several acclaimed interiors, including the Stockholm Museum of Modern Art and the Swedish Museum of Architecture in Stockholm.
He is currently working on several commercial- and housing projects in Scandinavia. As a furniture designer, Thomas Sandell has collaborated with several Swedish and international furniture producers, such as Artek, Asplund, B&B Italia, Cappellini, CBI, de Padova, Gärsnäs, IKEA of Sweden, Källemo, Mobileffe, Rapsel and Tronconi.
His design has been the recipient of several awards, 11 Utmärkt svensk form (Swedish design award), Red Dot design award 2002 för Ikea Vågö, Metropolitain Home award 2003, The lamp of the year for Leucos Bottle 2007, The Kasper Salin award (nominated) 2008. His work has been published internationally.
Products designed by Thomas Sandell